The original body kit for street use that inherits the design philosophy of legendary HKS race cars.
3D_CAD modeled kit was tested with aerodynamic analysis to enhance high-speed stability.
Comparison between Stock body size and HKS body kit size.
Product Features
Front Spoiler
CFRP barge panels are added to both ends of the front spoiler.
Under panel is included to add down force and enhance high-speed stability by rectifying air flow under the body.
HKS front spoiler is installed in figure 1.
Downforce is enhanced in the area shown in blue.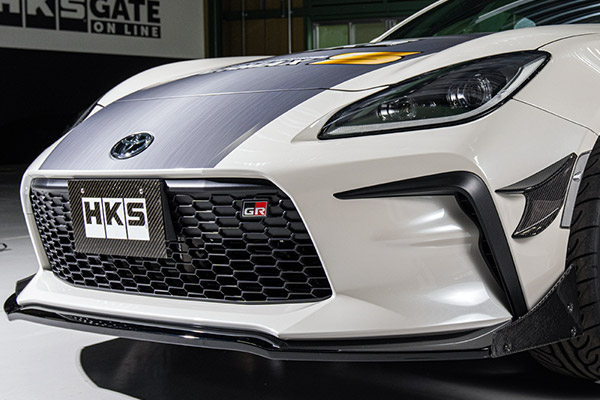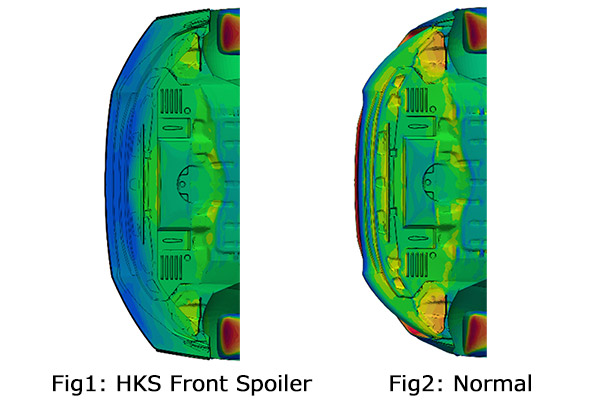 Canards
Reduce front-end lift by generating a vortex and helping to re-direct drag-inducing turbulent air away from the wheel wells. Made of CFRP.
In figure 3, HKS Canards are installed.
Visualization of a vortex generation.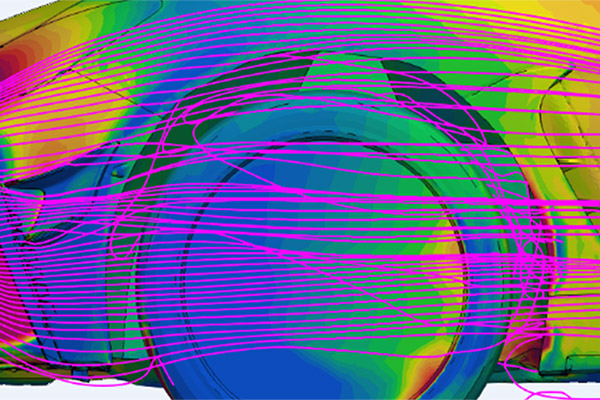 Fig3: HKS Canards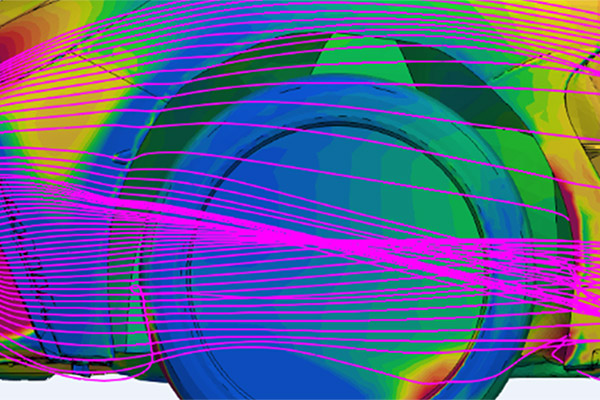 Fig4: Normal
Side skirt
The side skirts have been designed to take advantage of the stock sleek press lines without compromising them.
The design of the side skirts matches the front and rear downforce levels to improve underbody airflow, reduce life, and minimize drag-inducing truculence.
CFRP barge panel creates an appearance reminiscent of legendary HKS racing cars.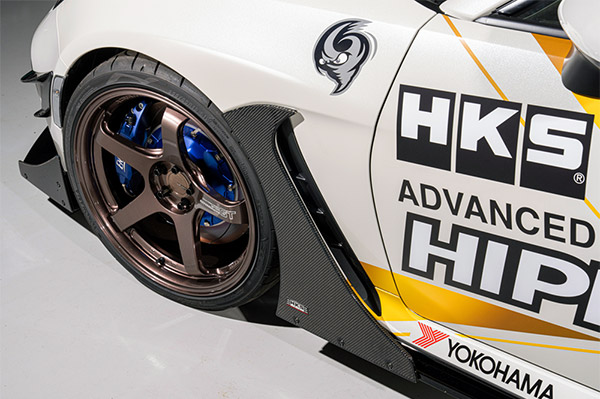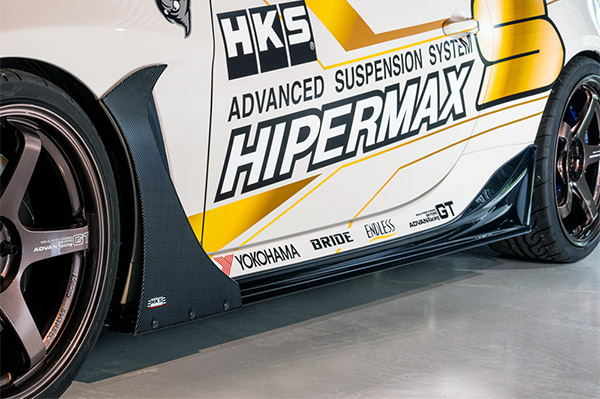 Rear spoiler
The unique fin-shaped rear spoiler rectifies the air flow around the rear to optimize the aerodynamic balance of downforce with the front spoiler.
CFRP barge panel creates an appearance reminiscent of legendary HKS racing cars.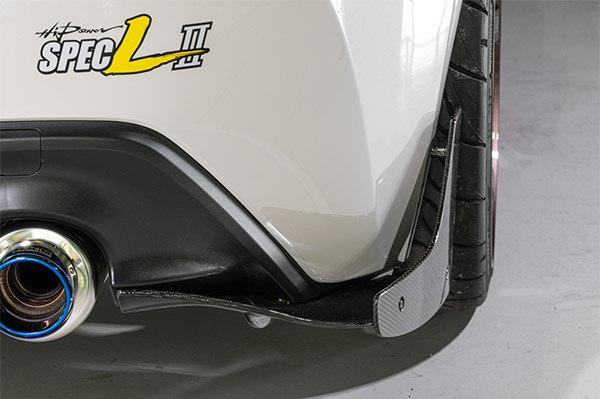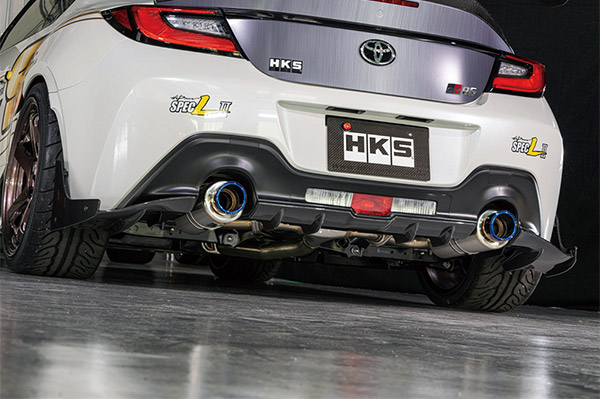 ●Duck tail
Duck tail rectifies the flow of air above and below the body to enhance high-speed driving stability and adds downforce. Made of CFRP.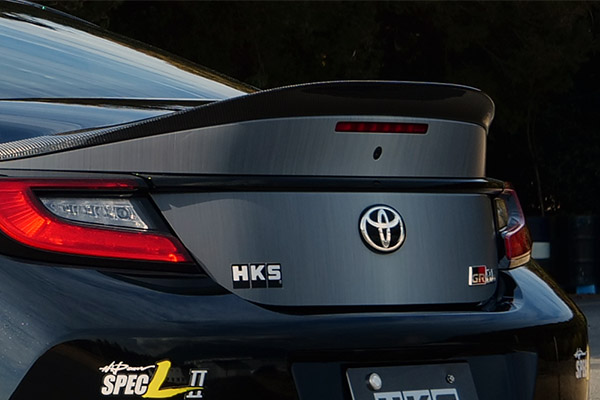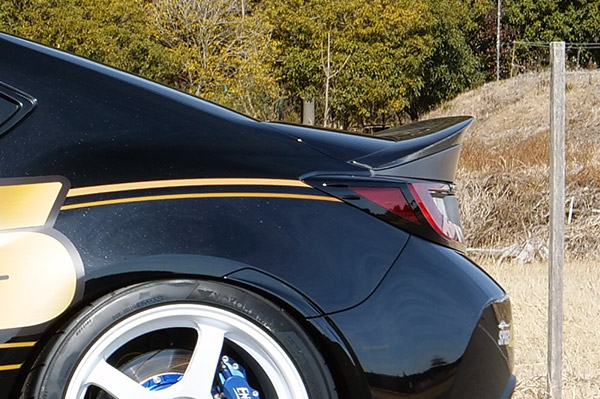 Rear Wing
Main wings and wingtip plates are made of light-weighted CFRP. Designed aluminum struts are painted with matte black.
The wing cross section and gurney flap shape is designed with fluid analysis to achieve low drag and strong downforce.
With the designed reinforcement bracket for the strut, it prevents the damage of trunk panel from repeatedly enduring the downforce load (MAX Speed:210km/h).
Test with the rear wing and aero kit shows the kit reduces the understeer and provides stability while cornering, suppressing the fluttering during full braking in the meantime, and improves the tire traction. The driver can entirely experience all the improvements on driving stability.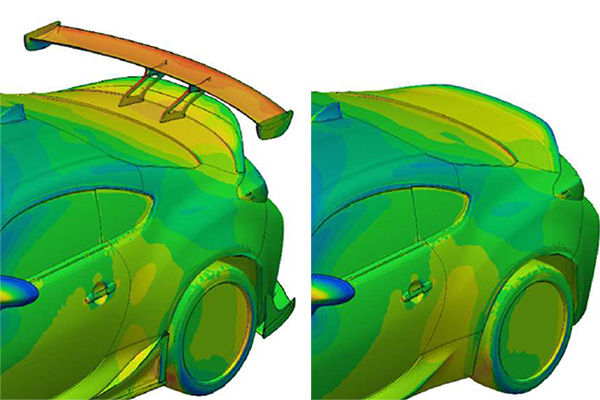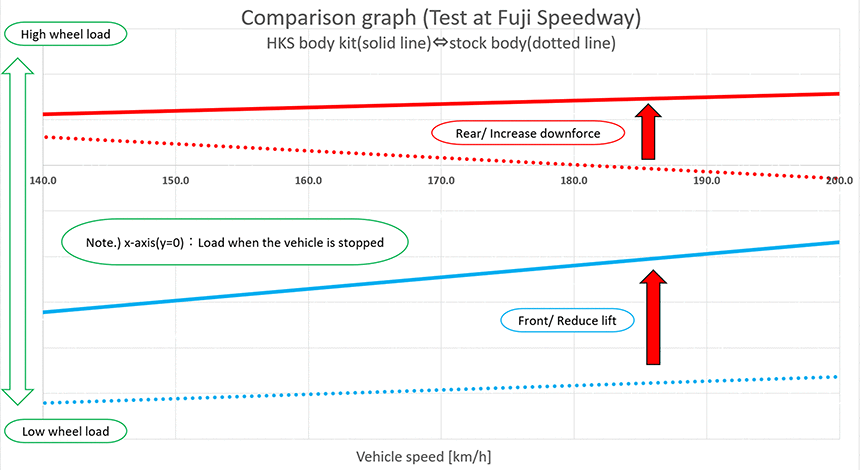 Test run at Fuji Speedway (home straight section).
Blue line (front): lift reduction
Red line (rear): downforce enhancement
The vertical axes 0 is the tire load applied when the car is stopped.)

Solid line: HKS Dotted line: Normal

4TH - 5TH GEAR WOT
* P.O.A & ETA is about 16 to 20 weeks